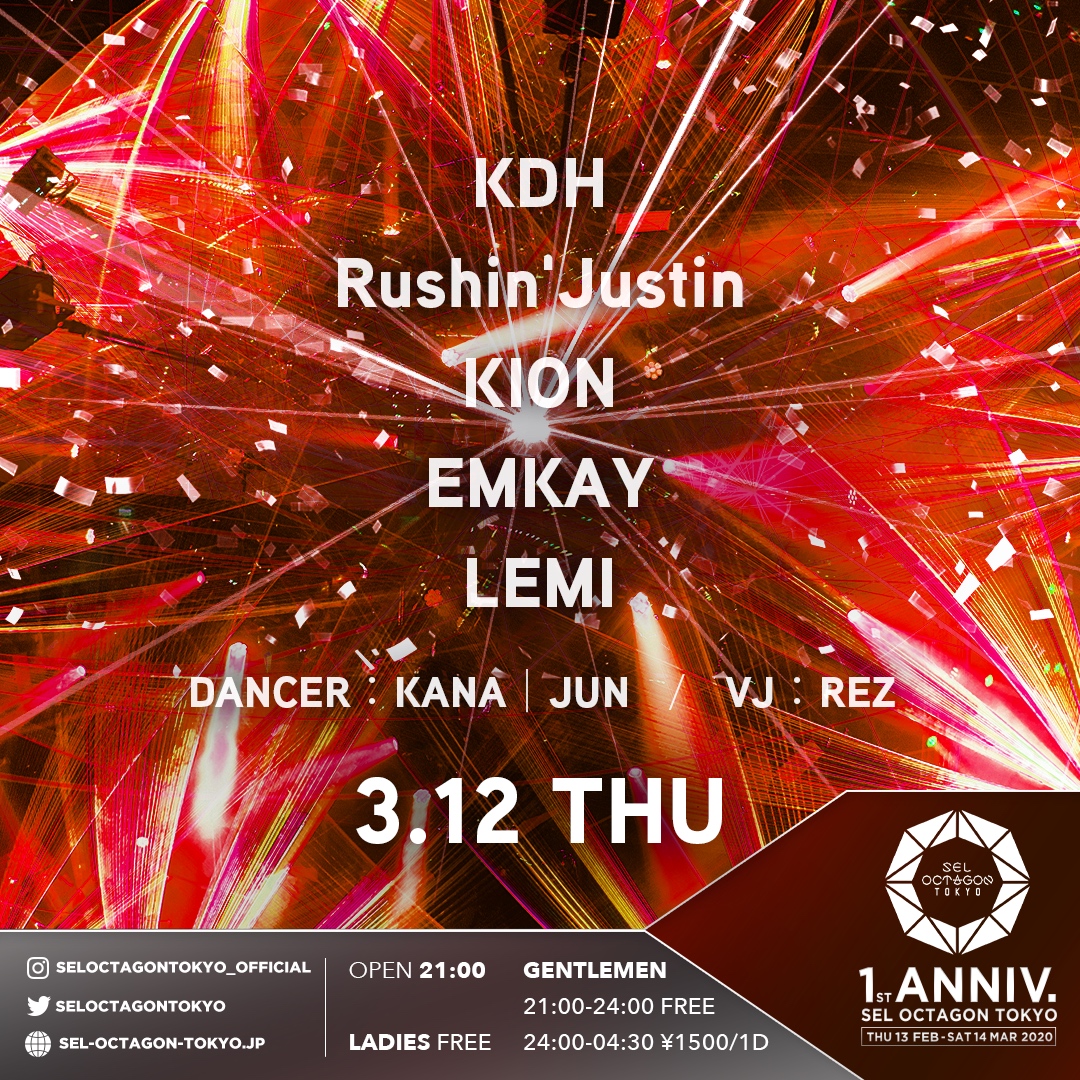 MOCTAGON
LADIES
FREE
GENTLEMEN
[21:00-24:00] FREE
[24:00-04:30] ¥1,500/1D
※料金は予告なく変更になる可能性があります
*Entrance fees are subject to change.
DJ
KDH|Rushin'Justin|KION|EMKAY|LEMI
DANCER
KANA|JUN
VJ
REZ
[ASTER公演延期のお知らせ]
出演を予定しておりましたASTERですが、政府による日本への入国規制措置及び査証の効力停止のため、公演を延期させて頂くこととなりました。
公演を楽しみにされていたお客様には大変申し訳ございませんが、何卒ご理解いただけますようお願い申し上げます。
今後の出演予定につきましては改めてオフィシャルWEBサイト・SNSにてご案内させて頂きます。
なおSEL OCTAGON TOKYOに関しましては新型コロナウイルス感染拡大防止策を徹底した上で、通常通り営業させていただきます。
[Notice of postponement of ASTER performance]
ASTER was scheduled to have performance at SEL OCTAGON TOKYO on Thursday, March 12, but due to Japanese government restrictions on entry into Japan and the suspension of visa, the performance has been postponed.
We are very sorry for the customers who have been looking forward to the performance.
According to the further information of postponed ASTER performance, we will inform you on the official website and SNS.
We will open the Club "SEL OCTAGON TOKYO" as usual with taking the measures to prevent the spread of the Covid 19 virus.
We hope to announce the new date very soon.